Based upon a conference [1] sponsored by the Centre of Theology and Philosophy:
A Saint for East and West:
Maximus the Confessor's Contribution to Eastern and Western Christian Theology
Edited by Daniel Haynes
with an introduction by Andrew Louth, FBA
Purchase: Amazon.com [2] | Amazon.co.uk [3] | Wipf & Stock [4]
Book description:
In 1054 CE, the Great Schism between Eastern and Western Christianity occurred, and the official break of communion between the two ancient branches of the church continues to this day. There have been numerous church commissions and academic groups created to try and bridge the ecumenical divides between East and West, yet official communion is still just out of reach. The thought of St. Maximus the Confessor, a saint of both churches, provides a unique theological lens through which to map out a path of ecumenical understanding and, hopefully, reconciliation and union. Through an exposition of the intellectual history of Maximus' theological influence, his moral and spiritual theology, and his metaphysical vision of creation, a common Christianity emerges. This book brings together leading scholars and thinkers from both traditions around the theology of St. Maximus to cultivate greater union between Eastern and Western Christianity.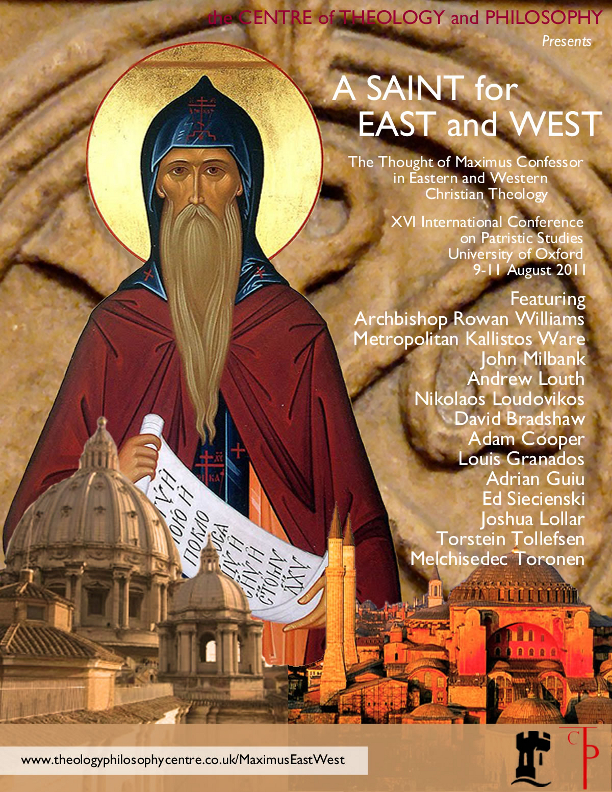 Table of Contents
Introduction, Andrew Louth, FSB
Part One: Reception and Influence
Ch. 1: Eriugena's Appropriation of Maximus Confessor's Anthropology, Adrian Guiu
Ch. 2: Saint Maximus the Confessor, the Filioque, and the Papacy, Edward Siecienski
Ch. 3: A Logician for East and West, Christophe Erismann
Part Two: Anthropology, Christology, and Spirituality
Ch. 4: The Imitation of Christ according to Saint Maximus the Confessor, Metropolitan Kallistos (Timothy Ware)
Ch. 5: Freedom and Heteronomy, Adam Cooper
Ch. 6: Maximus the Confesor on the Will, David Bradshaw
Ch. 7: The Action of the Holy Spirit in Christ, according to Saint Maximus the Confessor, Luis Granados Garcia
Part Three: Ontology and Metaphysics
Ch. 8: Remarks on the Metaphysics of Saint Maximus the Confessor, Melchisedec Törönen
Ch. 9: Nature, Passion, and Desire, Rowan Williams
Ch. 10: Christianity and Platonism in East and West, John Milbank
Ch. 11: Theuric Attunement as Eucharistic Gnosiology, Nikolaos Loudovikos
Ch. 12: The Metaphysics of Maximus, Torstein T. Tollefsen
Ch. 13: Maximus the Confessor's View on Participation Reconsidered, Vladimir Cvetković
Ch. 14: Christ and the Contemplation of Nature in Maximus the Confessor's Ambigua to John, Joshua Lollar
Blurbs: [5]
"St. Maximus the Confessor is not only one of the most profound Christian theologians of Late Antiquity, but one who uniquely, in his own lifetime and again today, unites both East and West. The essays gathered here together are likewise from eminent Eastern and Western theologians, and show a common spirit in their engagement with the texts, theology, and legacy of their common Father." — John Behr, St. Vladimir's Seminary, New York
"The essays in this collection prove that there is much work yet to be done on Maximus the Confessor, and that his legacy in Eastern and Western Christian thought is both deep and wide. Fresh insights are offered here into an array of classic themes in Maximus's theology, from his cosmology and metaphysics to his theological anthropology and ascetical doctrine. Veteran and younger scholars weigh in on issues that continue to compel modern theological retrieval of this prolific Byzantine thinker. This book is a welcome addition to the continuing renaissance of Maximus studies in recent decades." — Paul M. Blowers, Emmanuel Christian Seminary, Milligan College
Purchase: Amazon.com [2] | Amazon.co.uk [3] | Wipf & Stock [4]