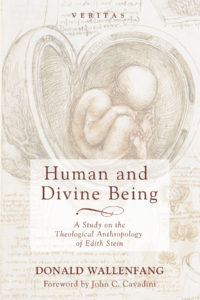 New in the Veritas series: Human and Divine Being: A Study on the Theological Anthropology of Edith Stein, by Donald Wallenfang, with a foreword by John C. Cavadini.
[Purchase: Wipf & Stock]
Nothing is more dangerous to be misunderstood than the question, "What is the human being?" In an era when this question is not only being misunderstood but even forgotten, wisdom delivered by the great thinkers and mystics of the past must be recovered. Edith Stein (1891-1942), a Jewish Carmelite mystical philosopher, offers great promise to resume asking the question of the human being. In Human and Divine Being, Donald Wallenfang offers a comprehensive summary of the theological anthropology of this heroic martyr to truth. Beginning with the theme of human vocation, Wallenfang leads the reader through a labyrinth of philosophical and theological vignettes: spiritual being, the human soul, material being, empathy, the logic of the cross, and the meaning of suffering. The question of the human being is asked in light of divine being by harnessing the fertile tension between the methods of phenomenology and metaphysics. Stein spurs us on to a rendezvous with the stream of "perennial philosophy" that has watered the landscape of thought since conscious time began. In the end, the meaning of human being is thrown into sharp relief against the darkness of all that is not authentically human.
Blurbs:
"Donald Wallenfang has followed up his wonderful book on sacramental theology with an equally wonderful book on the theological anthropology of Edith Stein. … Without any disservice to the complexity and profundity of Stein's thought, Wallenfang has repurposed her to speak critically and hopefully to our postmodern situation. Wallenfang continues to show himself to be a deep Catholic thinker worthy of our attention." — Cyril O'Regan, Huisking Professor of Theology, University of Notre Dame
"Wallenfang's book deals with a central topic in Edith Stein's investigations. Examining the meaning of human being and divine Being, the author pinpoints the main aspect of Stein's research starting from her phenomenological analyses as far as her book on theological anthropology and underscoring the influence of St. Thomas Aquinas on her interpretation of the relationship between man and God. In my opinion, Wallenfang's book will be a contribution to the knowledge of Edith Stein's philosophical and theological thought." — Angela Ales Bello, Professor Emeritus of History of Contemporary Philosophy and Phenomenology of Religion, Lateran University
[Purchase: Wipf & Stock]