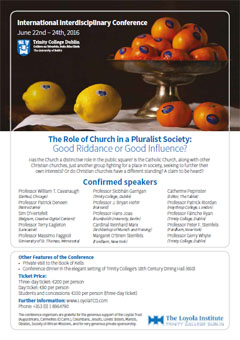 International Interdisciplinary Conference:
The Role of Church in a Pluralist Society:
Good Riddance or Good Influence?
Has the Church a distinctive role in the public square? Is the Catholic Church, along with other Christian churches, just another group fighting for a place in society, seeking to further their own interests? Or do Christian churches have a different standing? A claim to be heard?
Confirmed Speakers:
Professor William T. Cavanaugh (DePaul, Chicago)
Professor Patrick Deneen (Notre Dame)
Sim D'Hertefelt (Belgium, Creative Digital Content)
Professor Terry Eagleton (Lancaster)
Professor Massimo Faggioli (University of St. Thomas, Minnesota)
Professor Siobhán Garrigan (Trinity College, Dublin)
Professor J. Bryan Hehir (Harvard)
Professor Hans Joas (Humboldt University, Berlin)
Cardinal Reinhard Marx (Archbishop of Munich and Freising)
Margaret O'Brien Steinfels (Fordham, New York)
Catherine Pepinster (Editor, The Tablet)
Professor Patrick Riordan (Heythrop College, London)
Professor Fáinche Ryan (Trinity College, Dublin)
Professor Peter F. Steinfels (Fordham, New York)
Professor Gerry Whyte (Trinity College, Dublin)
Other Features of the Conference
Private visit to the Book of Kells
Conference dinner in the elegant setting of Trinity College's 18th Century Dining Hall (€60)
Ticket Price:
Three-day ticket: €200 per person
Day ticket: €80 per person
Students and concessions: €100 per person (three-day ticket)
Further information:
www.LoyolaTCD.com
Phone: +353 (0) 1 8964790
The conference organisers are grateful for the generous support of the Loyola Trust (Augustinians, Carmelites (O.Carm.), Columbans, Jesuits, Loreto Sisters, Marists, Oblates, Society of African Missions, and for very generous private sponsorship.
Download the Loyola conference details here [PDF]