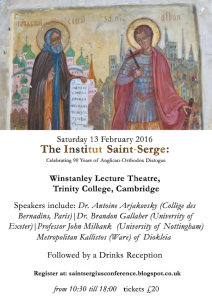 [1]To mark the 90th anniversary of the founding of the Saint Sergius Orthodox Theological Institute, Paris, and the publication of the first Agreed Statement of the International Commission for Anglican-Orthodox Dialogue: 'In the Image and Likeness of God: A Hope-Filled Anthropology', a special conference has been organised:
'The Institut Saint-Serge:
Celebrating 90 Years of Anglican-Orthodox Dialogue'
This conference will take place on Saturday 13th February 2016 in the Winstanley Lecture Theatre, Trinity College, Cambridge and will be followed by a drinks reception. This conference will explore the history and present state of the Anglican-Orthodox dialogue and the role of the Institut Saint-Serge within that exchange, while also considering the continued importance of the thought of Saint-Serge in contemporary Anglican and Orthodox theology.
Speakers include:
Dr. Antoine Arjakovsky (College des Bernadins, Paris)
Dr. Brandon Gallaher (University of Exeter)
Professor John Milbank (University of Nottingham)
Metropolitan Kallistos (Ware) of Diokleia
Registration Fee: £20
For the full programme and details of how to register, visit:
saintsergiusconference.blogspot.co.uk [2]
Download and distribute the conference flyer here [1].