The last book that Michel Henry published during his lifetime is now available in English translation: Incarnation, the middle work of Henry's final trilogy, translated by Karl Hefty (Northwestern University Press; 30 July 2015; 312pp+). In his lifetime, the order in which he wrote these final books were I Am the Truth, Incarnation, and Words of Christ, although the publication of these works in French and English do not quite correspond with the order in which he wrote them.
[Purchase: Northwestern University Press | Amazon.com | Amazon.co.uk]
Michel Henry defends the illuminating thesis that Incarnation is not existence in a body, but existence in the flesh. It is not in a body that flesh appears originally, but being in the flesh that comes first. For only in flesh can one see or touch, feel joy or sorrow, hunger or thirst—and undergo each of these impressions as one's own. But how does flesh come into this condition? How is life given to it so that it can feel itself, or anything else, in this way? Christianity's fundamental thesis, on which its fate plays out in every generation, is that "the Word was made flesh." Henry then asks what revelation must be for it to be accomplished as flesh, and what flesh must be to be revelation. He pursues such questions with lucidity and rigor in this astonishing meditation on the human condition.
---
Previous books in this 'trilogy' by Michel Henry: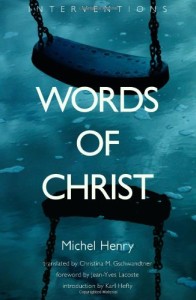 Words of Christ, translated by Christina M. Gschwandtner, with a foreword by Jean-Yves Lacoste and an introduction by Karl Hefty, published in the Interventions series (Wm. B. Eerdmans Publishing Co.; 2011; 152pp+).
[Purchase: Wm. B. Eerdmans Publishing Co. | Amazon.com | Amazon.co.uk]
In Words of Christ (Paroles du Christ)—here translated into English for the first time—Michel Henry asks how Christ can be both human and divine. He considers, further, how we as humans can experience Christ's humanity and divinity through his words. Are we able to recognize this speech as divine, and if so, then how? What can testify to the divine nature of these words? What makes them intelligible? Startling possibilities—and further questions—emerge as Henry systematically explores these enigmas. For example, how does the phenomenology of life bring to light the God of which scripture speaks? Might this new region of phenomenality broaden or transform the discipline of phenomenology itself, or theology?
Henry approaches these questions starting from the angle of material phenomenology, but his study has far-reaching implications for other disciplines too. Intended for a wide audience, his work is a uniquely philosophical approach to the question of Christ and to the place of this question in human experience. This highly original, interdisciplinary perspective on Christ's words was Henry's last work, published shortly after his death in 2002.
I Am the Truth: Toward a Philosophy of Christianity, translated by Susan Emanuel (Stanford University Press; 2002; 296pp+).
[Purchase: Stanford University Press | Amazon.com | Amazon.co.uk]
A part of the "return to religion" now evident in European philosophy, this book represents the culmination of the career of a leading phenomenological thinker whose earlier works trace a trajectory from Marx through a genealogy of psychoanalysis that interprets Descartes's "I think, I am" as "I feel myself thinking, I am."
In this book, Henry does not ask whether Christianity is "true" or "false." Rather, what is in question here is what Christianity considers as truth, what kind of truth it offers to people, what it endeavors to communicate to them, not as a theoretical and indifferent truth, but as the essential truth that by some mysterious affinity is suitable for them, to the point that it alone is capable of ensuring them salvation. In the process, Henry inevitably argues against the concept of truth that dominates modern thought and determines, in its multiple implications, the world in which we live.
Henry argues that Christ undoes "the truth of the world," that He is an access to the infinity of self-love, to a radical subjectivity that admits no outside, to the immanence of affective life found beyond the despair fatally attached to all objectifying thought. The Kingdom of God accomplishes itself in the here and now through the love of Christ in what Henry calls "the auto-affection of Life." In this condition, he argues, all problems of lack, ambivalence, and false projection are resolved.