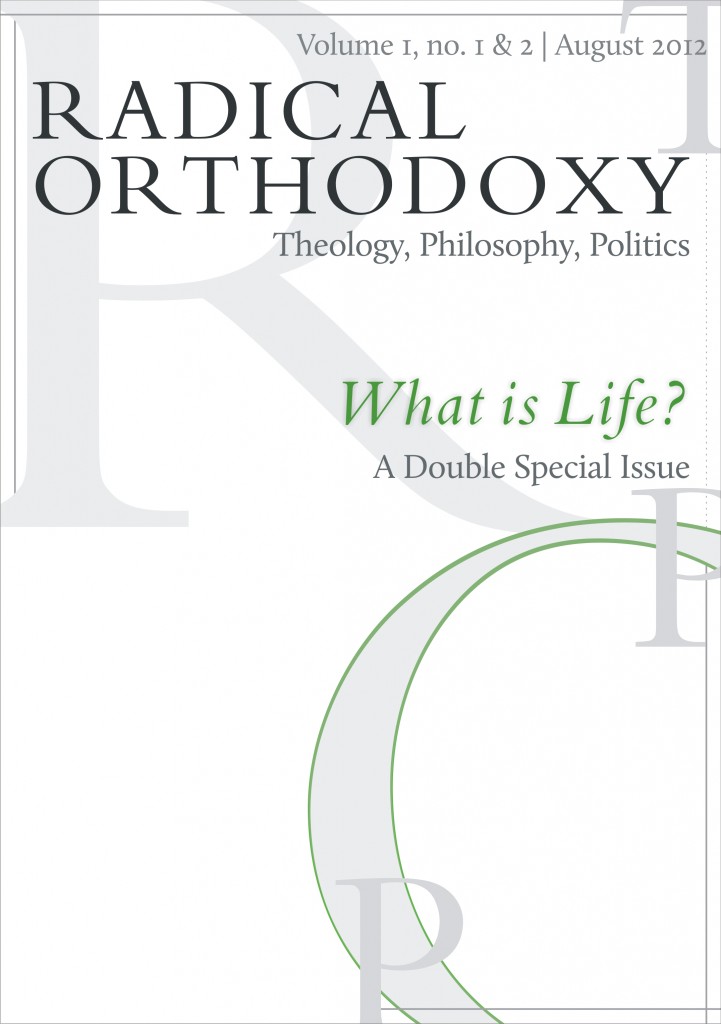 [1]The first issue of Radical Orthodoxy: Theology, Philosophy, Politics [1] (RO:TPP) is now available as an open-access online journal (articles are in PDF format), and can be read here [2]. The inaugural issue is a double special issue containing a special section on 'What is Life?'
Below is the table of contents for the first issue of RO:TPP:
Editorial Introduction
Introduction: Theology, Philosophy, and the "Political Turn"
Neil Turnbull
Special Section on Life
On the Surface of Things: Transient Life and Beauty in Passing Philosophy on the Surface
William Desmond
Affect: Towards a Theology of Experience
Graham Ward
On the Natural Desire of Seeing God
Louis Dupré
Life as an Analogical Concept: Earthly and Eternal
Beáta Tóth
Life, or Gift and Glissando
John Milbank
"Original Wholeness:" (Living) Nature Between God and Technê
Adrian J Walker
Taking Life out of Nature: Jewish Messianic Vitalism and the Problem of Denaturalization
Agata Bielik-Robson
Is Life a Transcendental?
Stratford Caldecott
Anthropomorphism and the Meaning of Life
William Christian Hackett
Articles
Reason and Church Social Doctrine: Benedict XVI and the Renewal of Tradition (2005-2008)
Evandro Botto
Instrument and Noumenon: Experimental Science and the Mysticism of the Instrument
Neil Turnbull
Theology, Philosophy, God and the Between
Christopher Ben Simpson
Theology and Practice of America's 'New Evangelicals'
Marcia Pally
Interviews
Catholic Social Teaching as a Universal Paradigm of Reasonableness: An Interview with Lorenzo Ornaghi
Adrian Pabst, Alessandra Gerolin
Reasoning within the Good: An Interview with David C. Schindler
Paul Tyson
Post-Secularity, Hegel, and Friendship: An Interview with Graham Ward
Ian Warlick
The Chronic Vigour of the Catholic Tradition: An Interview with Stratford Caldecott
Neil Turnbull
Between Metaphysics and God: An Interview with William Desmond
Christopher Ben Simpson
Reviews
A Review of Light of the World: The Pope, the Church and the Signs of the Times: A Conversation with Peter Seewald (Ignatius Press: San Francisco, 2010)
Tracey Rowland
A Review of Ordering Love: Liberal Societies and the Memory of God, by David L. Schindler and F. Giardini (Torino: Lindau, 2011)
Alessandra Gerolin 
Read the first issue of RO:TPP here [2].