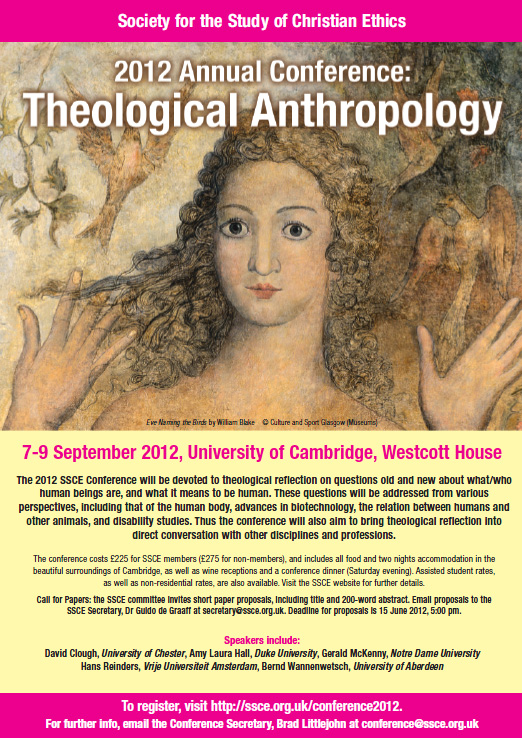 [1]Society for the Study of Christian Ethics
2012 Annual Conference:
Theological Anthropology
7-9 September 2012
University of Cambridge, Westcott House
The 2012 SSCE Conference will be devoted to theological reflection on questions old and new about what/who human beings are, and what it means to be human. These questions will be addressed from various perspectives, including that of the human body, advances in biotechnology, the relation between humans and other animals, and disability studies. Thus the conference will also aim to bring theological reflection into direct conversation with other disciplines and professions.
The conference costs £225 for SSCE members (£275 for non-members), and includes all food and two nights accommodation in the beautiful surroundings of Cambridge, as well as wine receptions and a conference dinner (Saturday evening). Assisted student rates, as well as non-residential rates, are also available. Visit the SSCE website for further details.
Call for Papers: the SSCE committee invites short paper proposals, including title and 200-word abstract. Email proposals to the SSCE Secretary, Dr Guido de Graaff at secretary@ssce.org.uk. Deadline for proposals is 15 June 2012, 5:00 pm.
Speakers include:
David Clough, University of Chester
Amy Laura Hall, Duke University
Gerald McKenny, Notre Dame University
Hans Reinders, Vrije Universiteit Amsterdam
Bernd Wannenwetsch, University of Aberdeen
To register, visit http://ssce.org.uk/conference2012 [2].
For further info, email the Conference Secretary, Brad Littlejohn at conference@ssce.org.uk
You may download the flyer here [3] [PDF].