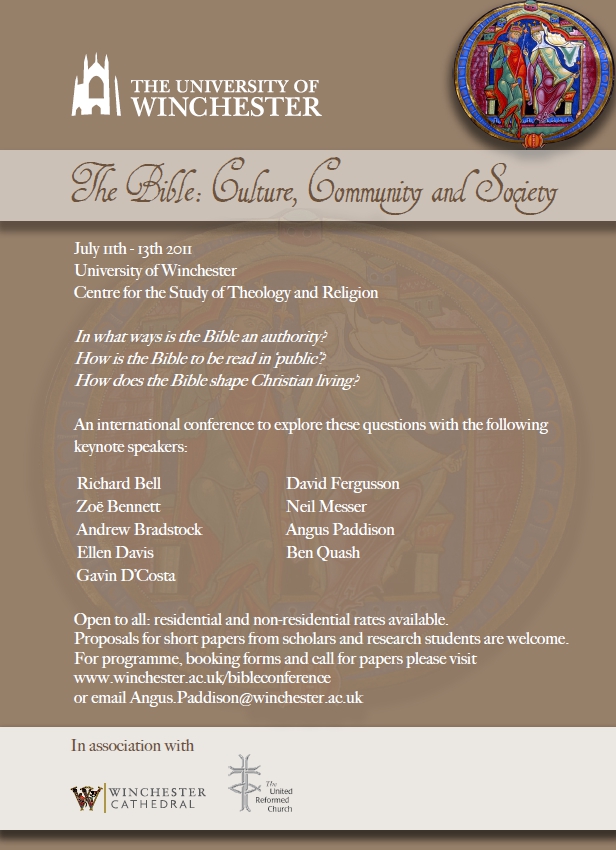 An international conference on Scripture and its authority, organised in partnership with Winchester Cathedral and the Wessex Synod of the United Reformed Church
The Department of Theology and Religious Studies is delighted to announce this conference, which is timed as part of Winchester Cathedral's celebration of the 400th Anniversary of the Authorised Version.
The conference will look at questions of the Bible's living authority, the challenges of holding onto Scripture as an authoritative text, the role of the Bible in shaping Christian life, and the place of Scripture in public debates.
This residential conference will take place 11-13 July 2011 in the beautiful historic setting of Winchester.
Confirmed speakers:
Professor David Fergusson (University of Edinburgh)
Professor Ellen Davis (Duke Divinity School)
Professor Richard Bell (University of Nottingham)
Professor Ben Quash (Kings College London)
Zoë Bennett (Anglia Ruskin)
Professor Gavin D'Costa (University of Bristol)
Professor Andrew Bradstock (University of Otago)
Dr Neil Messer (University of Winchester)
Dr Angus Paddison (University of Winchester)
Conference conveners:
Further details such as a call for papers, a detailed programme and opportunities to book a place can be found below: