Members
Archbishop Chrysostomos (St. Gregory Palamas Monastery, Etna, CA)
Professor Leonard Lawlor (Penn State)
Professor James Williams (University of Dundee)
Professor Laszlo Tengelyi (Bergische Universität Wuppertal)
Professor Oliver O'Donovan (University of Edinburgh)
Professor John Inglis (University of Dayton)
Professor John J. Drummond (Fordham University)
Professor Mark D. Jordan (Harvard Divinity School)
Professor James G. Hart (Indiana University)
Professor Tracey Rowland (John Paul II Institute for Marriage & Family – Melbourne)
Professor Kenneth Surin (Duke University)
Professor Mauro Carbone (Université Jean Moulin Lyon 3)
Professor Roger Trigg (University of Warwick)
Professor Nicholas Boyle (University of Cambridge)
Professor Josef Seifert (IAP, Liechtenstein)
Professor John Dillon (Trinity College, Dublin)
Professor Robert Sokolowski (Catholic University of America)
Professor William J. Abraham (Southern Methodist University, Dallas)
Rev Dr Matt Bullimore (Wakefield)
Professor John C. McCarthy (Catholic University of America)
Charles Olson (Fordham)
John Montag S. J. (Institute of Jesuit Sources)
Professor Ric Machuga (Butte College)
Dr Jason Smick (Santa Clara University)
Brian Goldstone (Duke University)
Dr Ian McPherson (Dundee)
John C. Médaille (Irving, Texas)
Professor Augustin Ioan (Bucharest)
Dr Thomas Cattoi (Jesuit School of Theology, Berkeley)
Dr Anthony Mansueto (Curtis, Michigan)
Professor Arthur Gibson (Roehampton University)
Professor Michael C. Rea (University of Notre Dame)
Professor Timothy Shanahan (Loyola Marymount University)
Dr Sébastien Laoureux (Université de Liège)
Professor Charles Taliaferro (St Olaf College)
Dr Robyn Horner (Australian Catholic University, Fitzroy)
Professor Bruce Ellis Benson (Wheaton College)
Professor Francesca Aran Murphy (University of Notre Dame)
Dr Stephen Mulhall (University of Oxford)
Professor Frank Budenholzer S.J. (Fu Jen Catholic University, Taipei, Taiwan)
Professor Merold Westphal (Fordham University)
Rev. Shane Mackinlay (Catholic Theological College, Melbourne)
Dr H. W. Sneller (Universiteit Leiden)
Professor Lambert Zuidervaart (Institute for Christian Studies, Toronto)
Dr Harm Goris (Thomas Instituute Te Utrecht)
David Lindsay (commentator)
Dr John Hartmann (Oakville, Missouri)
Charles Strauch (Maryland)
Dr Jeffrey McCurry (College of St Catherine, St Paul, Minnesota)
Simon Hewitt-Horsman (Birkbeck, University of London)
Dr Sander van Maas (University of Amsterdam)
Professor Anthony Steinbock (Southern Illinois University, Carbondale)
Dr Ruud Welten (Universiteit van Tilburg)
Professor Ben Vedder (Radboud Universiteit)
Professor Natalie Depraz (Université de Paris)
Dr Ian Leask (Mater Dei, Dublin)
Rev Jean-Yves Lacoste (Institut Catholique de Paris)
Dr Jeff Kosky (Washington and Lee University)
Dr Esther McIntosh (University of Leeds)
Mette Lebech (National University of Ireland, Maynooth)
Dr Scott Hahn (Franciscan University of Steubenville)
Dr Anthony Baker (Seminary of the Southwest)
Creston Davis (Rollins College)
Dr Rico Sneller (Leiden University)
Prof James K. A. Smith (Calvin College)
Dr Vivian Boland O.P. (Blackfriars, Oxford)
Professor John Davenport (Fordham University)
Dr Adrian Pabst (University of Kent, School of Politics and International Relations)
Dr Michael Hanby (Pontifical John Paul II Institute)
Dr Paul Graham Tyson (Queensland, Australia)
Dr Michael W. Austin (Eastern Kentucky University)
Dr Phillip Donnelly (Baylor University)
Callum David Scott (University of South Africa)
Steve Robitaille (Université de Montréal)
David Pitfield Pym (Church of England retired Priest)
Dr Roberto Casas (Instituto Diocesano de Teología y Pastoral)
Professor Nicholas Rengger (University of St Andrews)
Professor Chad C. Pecknold (Catholic University of America)
Dr Wes Arblaster (University of Dayton)
Dr Christopher Ben Simpson (Lincoln Christian University )
Dr Uzlaner Dmitry (Russian State Medical University)
Joseph Nnabugwu (Independent Researcher)
Professor Stephen R. L. Clark (University of Liverpool )
Dr Timothy J. Furry (University of Dayton)
Prof Gaetano Iaia (Pontifical Antonianum University – Franciscan Institute of Liveri)
Patrick Giddy (University of Kwazulu-Natal )
Dr Jude Chua Soo Meng (Nanyang Technological University, Singapore)
Revd Dr Steven Underdown (Kings, London)
Dr Benjamin Peters (Saint Joseph College, Connecticut)
Dr Timothy Lim Teck Ngern (Regent University)
Dr Chris Hackett (Australian Catholic University)
Dr Mark Alen Bowald (Redeemer University College)
Rev Dr Maxell Caringal Aranilla(De La Salle University, Manilla)
Prof Knut Alfsvåg (School of Mission and Theology, Stavanger, Norway )
Prof John Lippitt (University of Hertfordshire)
Dr Mark Cauchi (York University)
Shane Eastwood(University of Tasmania)
Dr Joseph G. Trabbic (Ave Maria University )
Dr Tristin S. Hassell (Oakland University)
Dr Tracy Jamison (The Athenaeum of Ohio )
Prof Jeffrey P. Bishop, MD, PhD (Saint Louis University)
Dr Adrian J. Reimers (University of Notre Dame )
Fr. Marco Salvioli O.P. (Studio Filosofico Domenicano,Bologna)
Dr Beáta Tóth (Sapientia College of Theology Budapest, Hungary)
Dr Wolter Huttinga (Kampen Theological University)
Dr Matthew John Paul Tan (Campion College Australia )
Dr Igor Manannikov (International Higher School of Practical Psychology (Riga, Latvia))
Dr Stephan van Erp (Radboud University Nijmegen)
Dr Scott Paeth (DePaul University)
Dr Nigel Zimmermann (University of Notre Dame Australia)
Dr Renée Köhler-Ryan (University of Notre Dame Australia)
Prof Jeremiah L. Alberg (International Christian University, Tokyo)
Dr Caitlin Smith Gilson (Pontifical College Josephinum)
Dr Férdia J. Stone-Davis (University of Göttingen )
Dr Catalin-Valentin Raiu (University of Bucharest)
Prof David Walsh (The Catholic University of America)
Dr Jacob Sherman (Emmanuel College, University of Cambridge)
Prof Jeph Holloway (East Texas Baptist University)
Prof Paul Oslington (Alphacrucis College and ACU)
Dr Lay Hendra Wijaya (Reformed Evangelical International Seminary – Jakarta, Indonesia )
Dr Leandro M. Gaitán (University of Navarra)
Prof Peter Hampson (Blackfriars Hall, Oxford )
Dr Alan David Thomson (Laidlaw College)
Dr Anthony Sean Neal (Paine College)
Dr Lesley-Anne Dyer (Baylor University)
Dr Jason D. Crowder (Columbia Evangelical Seminary)
Prof Peter D. Ashworth (Sheffield Hallam University)
Dr Christopher A. Stephenson (Lee University)
Dr Therese Feiler (University of Oxford)
Prof Douglas Harink (The Kings University Edmonton)
Dr Johan Siebers (Middlesex University)
Prof Hoda El KHouly (Cairo University)
Dr Andrey V Shirin (John Leland Center for Theological Studies)
Dr Saitya Brata Das (Jawaharlal Nehru University)
Dr Sotiris Mitralexis (City University of Istanbul & University of Winchester)
Dr Dawid Bunikowski (Ronin Institute for Independent Scholarship; Cardiff Center for Law and Religion)
Dr Duncan Reyburn (University of Pretoria)
Michael Anthony Kelly (North Greenville University)
Dr Michaël Bauwens (University of Antwerp)
---
Apply for membership in the Centre of Theology and Philosophy:
(If you are not yet a member and would like to be)
If you find yourself resonating with any or all of the concerns below…
The Centre for Philosophy and Theology is a research-led institution organised at the interstices of theology and philosophy. It is founded on the conviction that these two disciplines cannot be adequately understood or further developed, save with reference to each other. This is true in historical terms, since we cannot comprehend our Western cultural legacy, unless we acknowledge the interaction of the Hebraic and Hellenic traditions. It is also true conceptually, since reasoning is not fully separable from faith and hope, or conceptual reflection from revelatory disclosure. The reverse also holds, in either case.

The Centre is concerned with:

The historical interaction between theology and philosophy
The current relation between the two disciplines
Attempts to overcome the Analytic/Continental divide in philosophy
The question of the status of 'metaphysics'. Is the term used equivocally? Is it now at an end? Or have 20th Century attempts to have a post-metaphysical philosophy themselves come to an end?
…then please sign up below: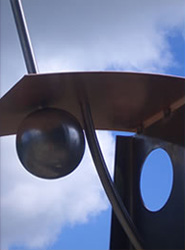 (Sculpture by Sara Cunningham-Bell)